How To Help Your Cats Get Along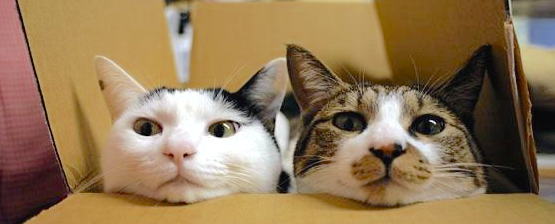 You can probably already tell that your cats have distinct personalities. Kind of like people. They're people-kitties. It makes sense then, that there will be other cat personalities that they just don't mesh with. When I first introduced Sita and Pippin, I was terrified I'd botch their first impressions somehow and they'd hate each other for nine lifetimes.
I'm happy to report that despite their wildly dissimilar personalities (Sita is a dignified, disgruntled, demanding old lady and Pippin is a blithely rambunctious airhead), they are friends. I think. I'm pretty sure they're friends.
But it didn't happen through sheer luck, or through the blessing of some benevolent kitty god in a cat tree high up in the sky.
I've watched enough episodes of "My Cat From Hell" to know that there are basic, cut-and-dry steps everyone can (and should) take that will ensure a harmonious cat-filled household.
1. Resources. RESOURCES EVERYWHERE.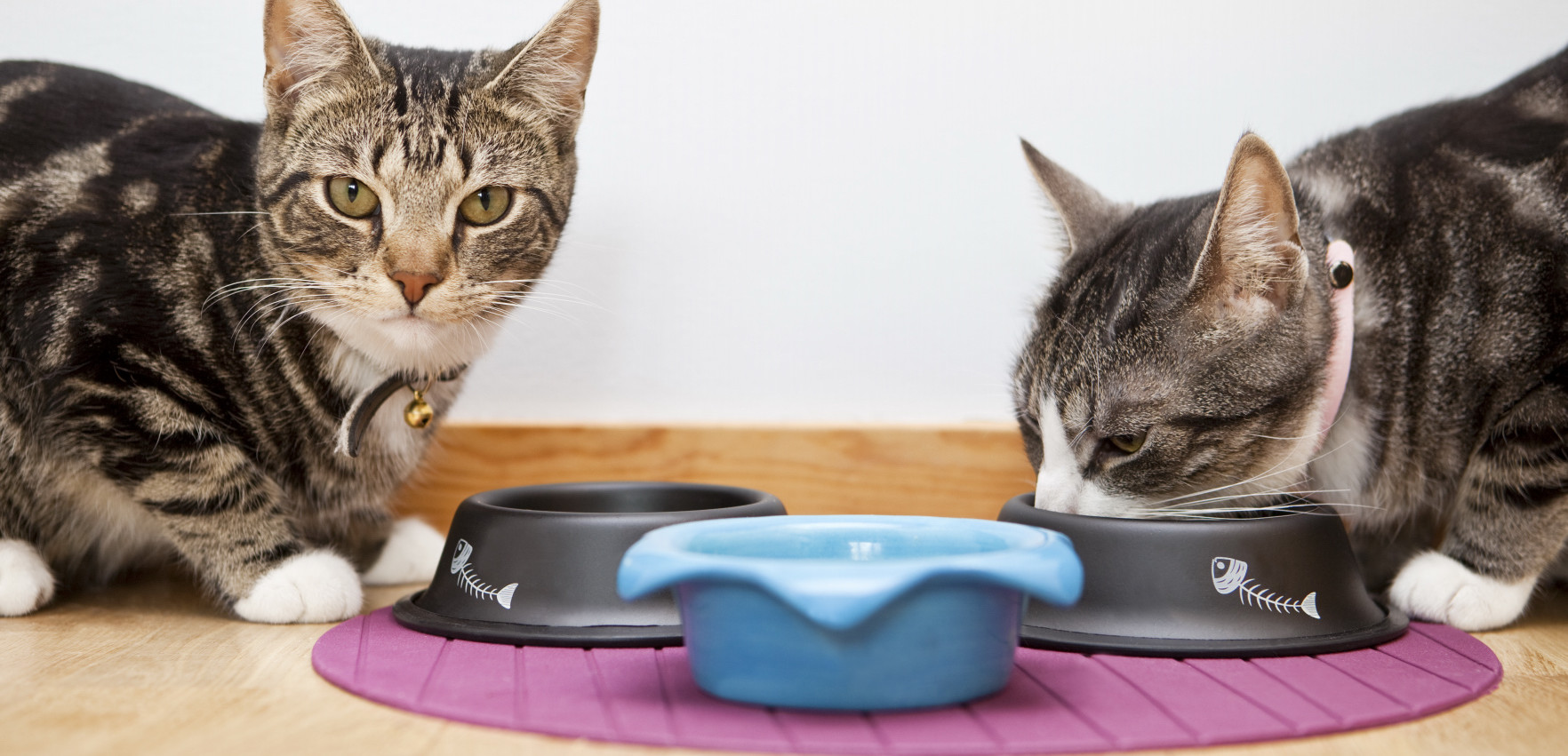 Much of cat tension arises when cats feel like they have to compete for limited resources.
While you may know that there's plenty more kibble where that came from, to a cat, every day is daunting, uncharted territory, where they have to duke it out if they want to last another day. (Have you noticed how jittery they can be? Cats are neurotic little buggers.)
So making your cats share food bowls, not putting out enough water bowls or litter boxes, etc, can all contribute to making your cats feel nervous and tense. Relaxed kitties want to make friends. Tense kitties want to rip faces off.
The rule of thumb for food and water bowls is one for each cat in the house. If your cats aren't very fond of each other (yet!), keep their food bowls far apart, and ideally tucked away somewhere they can't get ambushed. The rule of thumb for litter boxes is one for every cat, plus one more. Now, to me the litter box rule sounds a little intense. Does that mean I'd need THREE litter boxes for my two cats?? Don't tell the authorities, but I only have two. (So far no one has died)

2. VERTICAL. SPACE.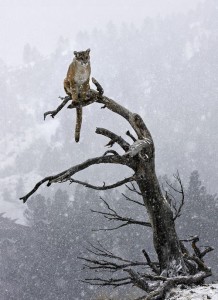 I really can't over-emphasize this enough.
I've been to so many friends' homes where they've neglected to provide any sort of cat-friendly vertical (elevated) space, and their cats are either stressed and destructive (jumping on bookshelves, furniture, fridges, you name it), or lethargic, bored, and overweight—none of which is conducive to happy cats getting along.
This is especially important if, like me, you live in a shoebox of a New York City apartment and have limited real estate to go around. Cats with less-than-ideal space to roam are likely to engage in turf standoffs or full-on turf wars. So basically, not tea parties.
Being high up is in a cat's DNA. They're exceptional climbers, and their instinct is always to retreat to higher ground if they feel threatened, or when they're seeking a sanctuary for a snooze.
To sum up:
Elevated space makes your cats feel safe and relaxed
It vastly increases the square footage of cat territory in your home, resulting in less cat-on-cat tension
It keeps them stimulated and active with exercise
Vertical space can run the gamut anywhere between obnoxious (and insanely awesome) cat fortresses, like this: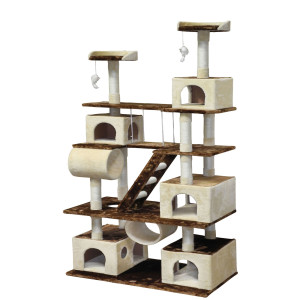 —to "what cat? I don't have a cat" pieces, like these wall-mounted shelves:
And everything in between:
(Click here to see my complete guide on awesome cat-friendly vertical space.)
At the end of the day, who doesn't love watching their cats roam around in their own mini kitty-kingdom? It's how adults play with dolls!
3. Satisfy their KILL URGE.
While your cats may look like innocent little fur loaves of cotton candy and love, they are, in actuality, bloodthirsty murderers.
Cats are natural predators—lithe, quick, and armed with razor-sharp teeth and claws. Every cat's energy level varies of course, so if one cat has an extremely high prey drive while the other would prefer to sun her rotund little underside on the windowsill… see where I'm going here?
It's up to us, their diligent cat guardians, to satiate their urge to chase down and mutilate all the living things on this earth. Otherwise, they're forced to take out all that excess energy on each other. And you. And all of your belongings.
Here's my weapon of choice for inducing cat exhaustion: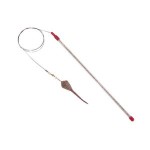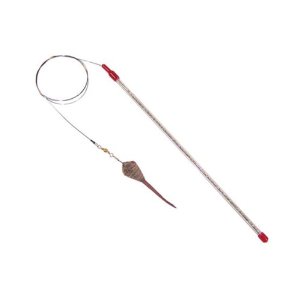 < – The Go Go Cat Catcher mouse wand. The extra-whippy woven wire and realistic mouse attachment are irresistible attack fodder for my cats.
If your cats prefer destroying animals of the airborne variety, Da Bird is an awesome feathered wand that easily goes sailing around over their heads. – >
Try playing with your cats together, either with multiple people and multiple toys in the same area, or with one cat wand in each hand. This will help the kitties associate each other with positive things like playtime, rather than with negative things, like murder. The same goes for treat-giving: reward your kitties with treats often, and in each other's presence.
Admittedly, running around the house flailing a cat fishing pole around gets tiring. So often, I neglect to play with Sita & Pip for days simply because I'm just so darn beat when I get home from work. That's when automatic cat toys come in handy.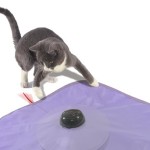 < – This one has seen a lot of use in my house. It's not the most sturdily-made toy, and I've had to take it apart a few times to reattach a rubber band that keeps the motor whirring, but it does the trick of keeping my cats preoccupied for up to 30 minutes.
4. If all else fails, REINTRODUCE.
If you've done all of the above, and your cats still loathe the sight of each other, it's time for a reintroduction. And I don't mean,
"Mr. Fluffingtons, meet Lola. Lola, meet Mr. Fluffingtons…Oh, oh you've met? And you …you f$%king hate each other? Oh dear… I must've forgotten."
I mean, start from scratch and segregate them completely. Pretend you're bringing a new cat into the house for the first time.
Bonus tip: Artificial cat pheromones like Feliway can often help to soothe tense cats' frazzled nerves. It replicates the natural pheromones cats release when they're relaxed and happy. (Think of it as kitty chemical warfare in reverse, or cat heroin)
However, some cats will just never get along. Think about the person with the most punchable face you know. Now imagine them as your lifelong roommate. Yeah..it's kind of like that. In these extreme cases, it might be wise to re-home one of your cats. It'll break your heart, but everyone will be happier in the long run.
Do you live in a multi-cat household? How do your cats get along? Is it love/hate or just love/love? (lucky you!)
Read on!
How to outsmart your cat when she's an evil genius  

Make sure you're fulfilling all your cat's needs: The 5 Pillars Of Healthy, Happy Kitty Care

How to get your cat to stop liking you so much (Yes… that's a thing)