7 Ways to Entertain Your Cats Without Spending Money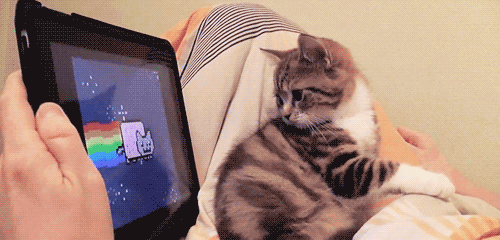 I just had the super epic honor of writing a guest post for the preeminent (and hilarious) cat blog, I Have Cat, run by divine (closet) cat lady, Tamar Arslanian.
Here's a snippet-
If you're anything like me, you derive an inordinate amount of joy from buying stuff for your cats. When I first acquired Sita, my feisty Shanghai feral kitten, I picked up all the usual necessities: litter box, scooper, bed, kibble. Before long, I was poking my head into every pet supply store I passed..you know…just to look around. Then came Amazon Prime (and then went the neighborhood).
To my great surprise, such wanton kitty spending isn't actually all that sustainable. After a couple cycles of UPS deliveries where my cats showed far less interest in their new gadgets than in the packaging it came in, I had an epiphany: Cats are not high maintenance trophy wives. Even the most dignified of smush-faced fur gremlins will eagerly disgrace herself in the presence of a good milk jug ring. Or a twisty tie. Or an upturned paper bag. And therein lies their silly, hilarious charm.
To that end, I've compiled a few of my favorite tried-and-true methods for entertaining your cats—all without having to buy a damn thing.
Head over to I Have Cat to read the post!
Thanks for having me, Tamar!