Hello, world.
Hello world! (Apparently, all first-time blog posts are supposed to start this way.)
Thanks for visiting my little labor of love and fanaticism, Why Cat Why. As the snow falls gently on the streets outside, or rather, as New York City experiences a record-setting blizzard of unprecedented fury, I thought I'd take this time to tell you a little about myself. My cats, you've met.
I'm Stef. I'm a writer, graphic designer, and animal lover extraordinaire, hailing from the foggy San Francisco bay area. I love oxford commas and I overuse em dashes like nobody's business. I've never watched "The Cove" or "Blackfish" and especially not "Tyke: Elephant Outlaw," because I know they'd only reduce me to a defeated, blubbering lump of bleakly-oozing snot and misery.
I ascribe to (well, valiantly attempt) a lifestyle that's both pleasantly crunchy and free of excess. Except when it comes to my cats. Those little gremlins want for nothing in this life.
I'm relentlessly curious and tend to spend hours on google, spiraling down various rabbit holes of "why?" and "how?" and "..but why?" and "but really…why?"
A good amount of this search for answers pertains to questions about my kitties. An even greater amount of this research pertains to all the different things I can put into a pancake.
My fellow cat aficionado and co-conspirator in life and I were married in August of 2015. Since then, we've spent many a glorious day hiking the gorges and trails of upstate NY, demolishing bottles of wine while holed up at home, and inventing yoga poses for our cats.
Thanks for reading. I look forward to sharing more cat curiosities, hilarities, and random musings with you.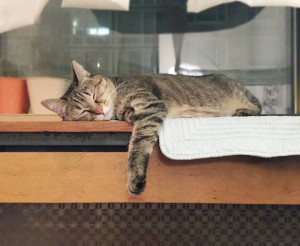 Until next time!
Have a burning cat question you'd like to see answered? Just have a burning cat?
Leave me a comment below!
(Unless you really do have a burning cat. Should probably see to that first.)