How to DIY hack the crap out of your cat-filled life
Brace yourself, kids. A cat D-I-Y megapost is headed your way. If you know me, you know that I'm a firm believer in not spending money, if I can help it, ever. Chalk it up to extreme moustachianism, and (proud) frugal weirdo-ness.
It just so happens that my cats, with their wanton disregard for the value of both their possessions and my own, are avid believers in this same philosophy (i.e. they destroy all of my things and are quite content to play with scraps from the garbage). Lucky me!
So if you're an avid do-it-yourselfer, or just want to pick up a few nifty cat wrangling "hacks" (I'm not so fond of that word. It's overused and reminds me of Pippin coughing up a hairball.. but that's neither here nor there), grab a doughnut and a cup of coffee—and get ready to take notes.
Epically Simple Cat DIYs
The T-shirt tent. This one has been making the rounds in the catosphere lately, and it's not hard to see why. It's simple, super cute, and a cinch to make.
All you need are two clothes hangers, a large T-shirt, and maybe an old cushion to line the bottom.
See the full step-by-step tutorial on Instructables.
Rubber gloves cat hair trick. 
Wear rubber dishwashing gloves and run your hands over your furniture to get rid of all the cat hair. We both know that shit is all over your house—no need to be ashamed.
I've found that his trick works remarkably well on carpeted cat trees, as well.
Sisal. Sisal err'where.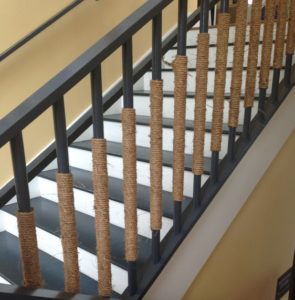 Make your own (surprisingly charming) cat scratching posts by wrapping furniture legs, staircase railings, or room pillars with sisal rope.
Anyone else think this makes a house look kinda cool and nautical? I always love adding rustic textures to my home.
It's chic and kitty-friendly! Double win.
Board game box cat trap. I love board games. I also love being able to work at my desk without my cat stomping out gibberish onto my keyboard, or stretching out luxuriously on top of all my papers.
Enter the board game box top! Cats are suckers for boxes, and no box is more perfect for a cozy kitty snooze than a board game box top. Pop one of those suckers to the side of your workspace, and it'll keep your cat neatly contained and out of your damn way.
It's voluntary kitty quarantine!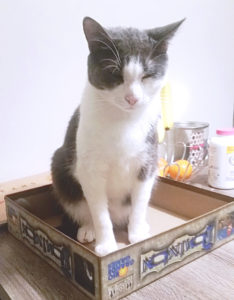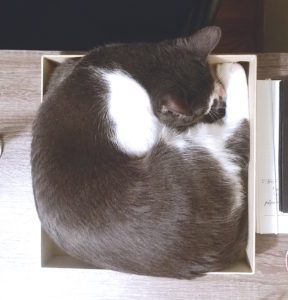 Here's Pippin meditating over some Dominion, and curled up in cinnamon roll pose, respectively.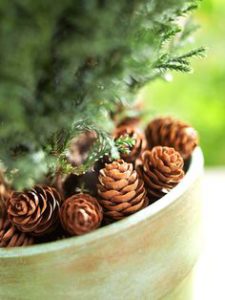 Pinecone cat deterrent.
Layer pinecones around your plants, potted or otherwise, to prevent your cat from rooting around in it or using it as her personal toilet.
Pinecones are cat-safe but unpleasant to step on, and will discourage any unwanted cat breaches.
Covered or hanging terrariums are also a great way to add greenery to your home without encouraging the inevitable psycho cat destruction.
Make your own kitty puzzle game. Ok, I'll admit I haven't actually gotten around to making this yet, but it looks so stinkin' fun! A comparable ball puzzle game would probably cost upwards of $30 in a pet store.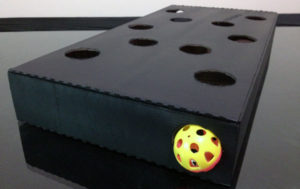 Sita and Pip love their ball toys, but they're always getting them lost under the sofa or the fridge. Ok mostly just Pip. Sita, as is her custom, conducts her play sessions with lethal, Manchester U-esque precision.
The full tutorial, get it in ya.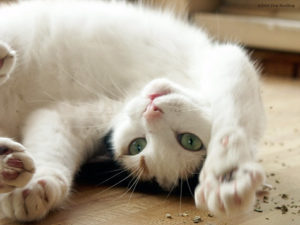 While we're on the topic of toys, keep your cats interested in the ones they have. 
How? Marinate them in catnip, of course! I always keep a few "sets" on rotation, with one set tucked away in a bag filled with catnip. When the buggers lose interest in their current set, I swap them out.
And voila! NEW TOYS! (Or so they think.)

Easy cat vertical space. Too frugal to splurge on cat furniture? Make sure you're giving your cats proper vertical space nonetheless. One super easy way is by simply clearing out some space on an existing bookshelf for a cushion or cat bed.
Ensure that it's easy for them to safely access by positioning a chair nearby or even by cutting a few holes –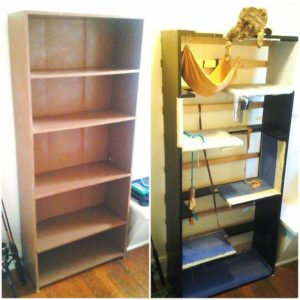 Find this bookshelf DIY tutorial here.
Here's our (considerably less intense) version: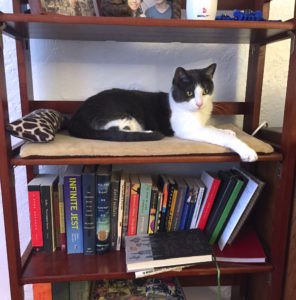 Make your own kitty windowsill without drilling a single hole. Like, anywhere.
Here's one I invented myself. With about 75 cents worth of scrap plywood and some C-clamps (available for around $2 at any hardware store), you can make a comfy window lounger for your cat to catch some rays and watch the world go by. I threw on an old rug for added cozies.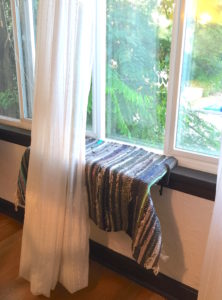 The success of this configuration will depend on your home's windowsill situation, of course. But with almost any kind of protruding ledge, this should be doable (and super secure).
Here's how the clamps are rigged: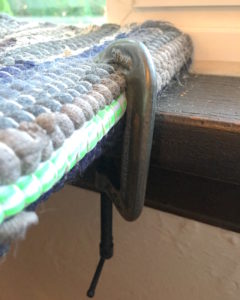 The best part is, it's completely reversible! So if your kitty seems to prefer the view from another room, or if you're renting, dismantling the perch takes mere seconds.
Moar easy kitty furniture! Create an awesome, two-tiered cat bunk with an IKEA TRENDIG tray table.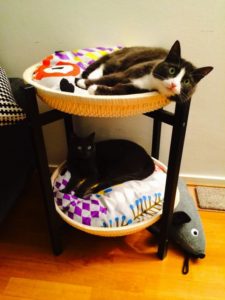 Full disclosure: I'm not sure if IKEA still carries this model… It may be from an older collection. But never fear! One of my favorite things to do on a weekend (because I have no life) is to wander my cavernous neighborhood IKEA hunting for cheap, small furniture pieces I can repurpose.
Even if this exact tray table is no longer in production, they are sure to have tons of other models, equally promising.
When in doubt, just pick up a large square or cylindrical basket (IKEA loves baskets. Baskets are their steez), and screw the bottom to your wall with a soft blanket thrown in.
The result?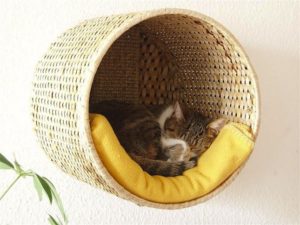 An impossibly cheap (and chic) cat lounger / vertical space!
Brilliant, no?
That's all for now! I'll create more DIY posts as I collect more ideas that I find sufficiently awesome. Thanks for tuning in!
Want more DIYs?
Learn how to easily customize your cat tree (again, no drilling!)
Eliminate cat litter-scatter with just a few simple tools 
Or, see my list of Top 10 Must-Have Cat Things (that you don't have to make yourself)