Cat Vertical Space 101: The Ultimate Guide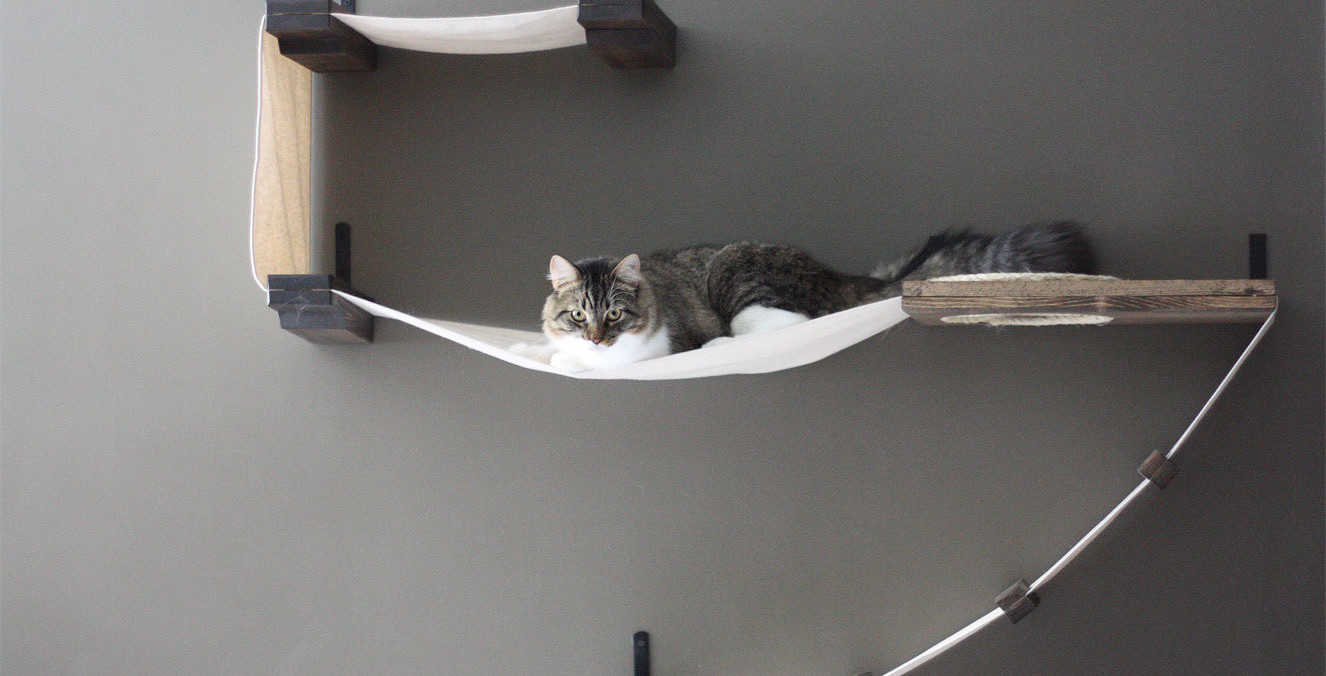 If you've been following my ramblings for a while, you'll know that I'm a huge proponent of providing cats with high quality vertical space. Stimulating, cat-safe vertical space can work wonders in keeping your cats sane, healthy, and help them get along better with each other (and you).
Along with adequate food and shelter, I'd rank vertical space one of most basic needs a cat owner should seek to fulfill.
The Importance Of Being Up High
Think about it—in the wild, you'll rarely find a healthy cat resting on the ground.
Whenever they can, they seek higher ground (or a hidey-hole).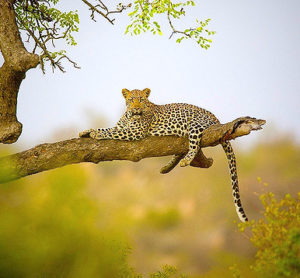 Being up high allows cats to survey their kingdom surroundings from a comfortable distance, without the fear of ambush by enemy forces and rogue kittens.
(Have I ever mentioned how neurotic cats are? Their skittish paranoia is actually a part of their weird charm, I think.)
Vertical space also dramatically increases your home's cat-friendly real estate, expanding your cat's domain and cutting down on the possibility of turf wars between stressed out kitties.
Also, it provides them with a passive source of exercise (and the motivation to do more of it), since fat kitties don't get prime perches.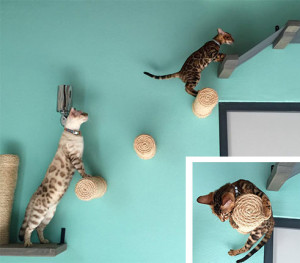 That said, I've heard all the usual excuses: Cat trees are an eyesore. They're expensive. They make me look crazy. My cats don't need furniture, they're perfectly content destroying all of mine.
To try to change your mind, I've scoured the interwebz for all the best (and coolest) cat vertical space solutions for every budget and aesthetic. I present them to you now.
From stylish and streamlined to innovative DIYs, it's so much easier (and prettier) than you think to create a cat-happy home.
Let's Begin!
When I say ultimate guide, I really do mean ULTIMATE. I spent countless eons combing the far reaches of the galactic cat empire to hunt down the coolest stuff to showcase here.
Feel free to warp directly to any dimension:
---
> Classic Cat Trees   (Carpets n' sisal rope)

> Modern Cat Trees   (Sleek design & kitty chic)

> Wall Mounted Cat Cities   (Epic cat superhighways)

+ Shelves   (Standalone perches)

> DIY   (Homemade, do it yourself)
---
The Classical Cat Tree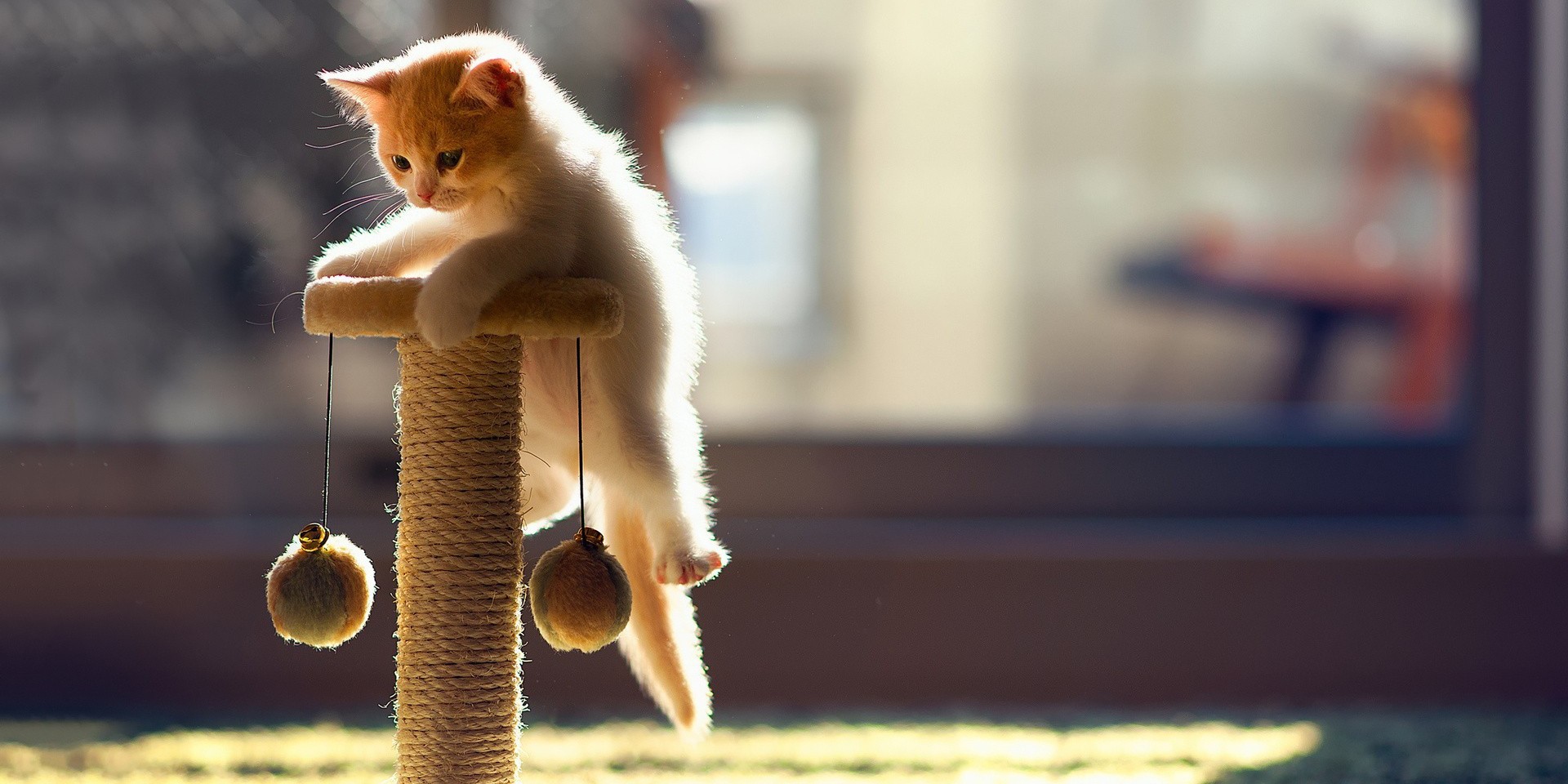 Everyone knows the carpeted cat tree with sisal legs. It's the workhorse in the world of cat vertical space: comfy and functional, but hardly pleasing to the eye. But still, there's definitely something cozy and homey about these, no? And cats sure dig them.
A couple good bets by good brands:
Small
Medium
Monstrous
Slightly more contemporary:
---
Modern Cat Trees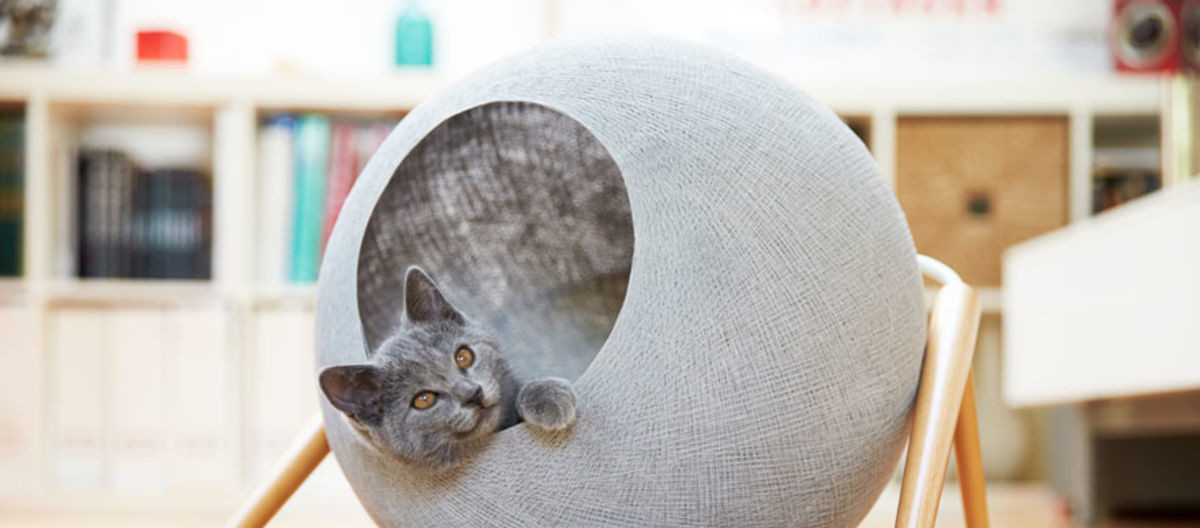 Here's where it gets a little more fun. These pieces add a whole lot of style to a cat tree's functionality, and should elicit a bit more than a "Oh..I see you have cats" from your guests. (Expect something a bit more like "Is that a cat thing? ..It's kind of… awesome.")
---
Wall Mounted Cat Cities

Perhaps my favorite vertical kitty space solution of all is cat shelves. They're just so incredibly versatile, and not to mention super epic looking. Plus, they don't take up any floor space and can double as modern art. (That statement is barely satire — have you seen some of the stuff that passes for art these days??)
It's like having a giant cat aquarium in your living room. Or a cutaway ant farm, except cuddlier. When I finally lock down a house of my own, you can bet your ass the first thing I'm gonna do is design the most badass cat wall jungle gym of all time (and post incessant pictures of its progress). Don't tell my husband. He doesn't know yet.
The foremost enabler of my wall-mounted cat city dreams is Catastrophic Creations. I discovered them recently thanks to a tip from a fellow cat-thusiast. (Thanks Jose!)
Just look at the possibilities…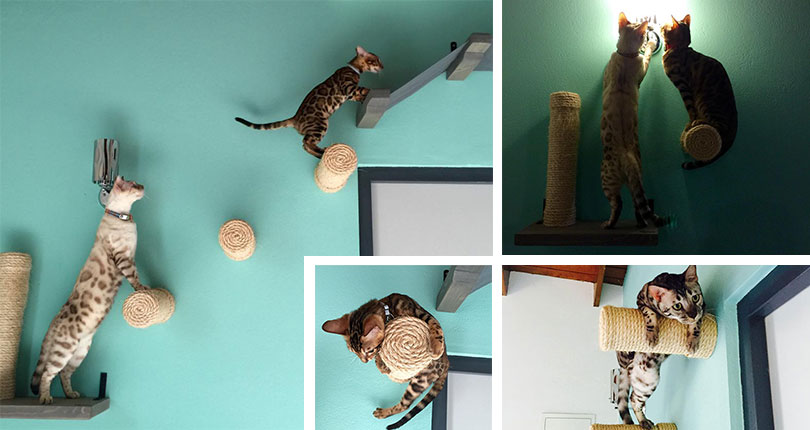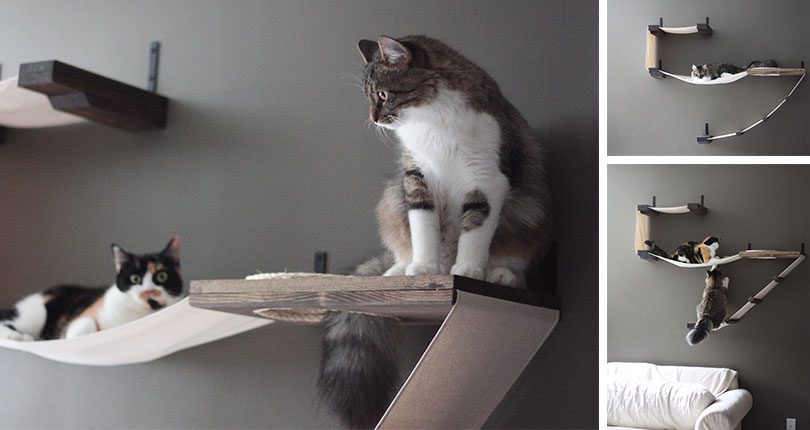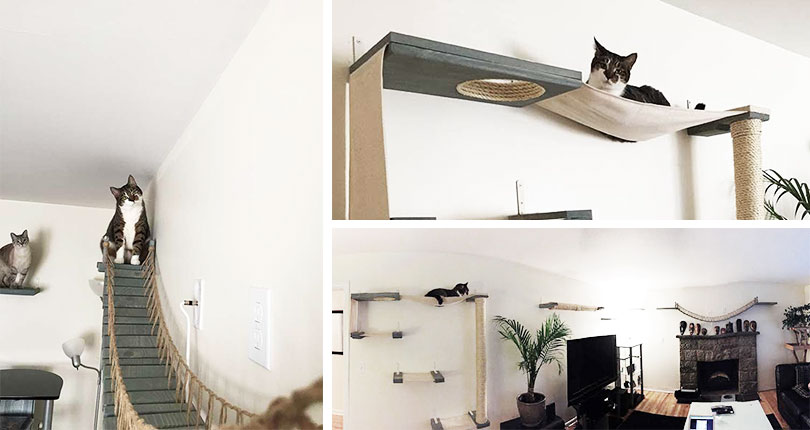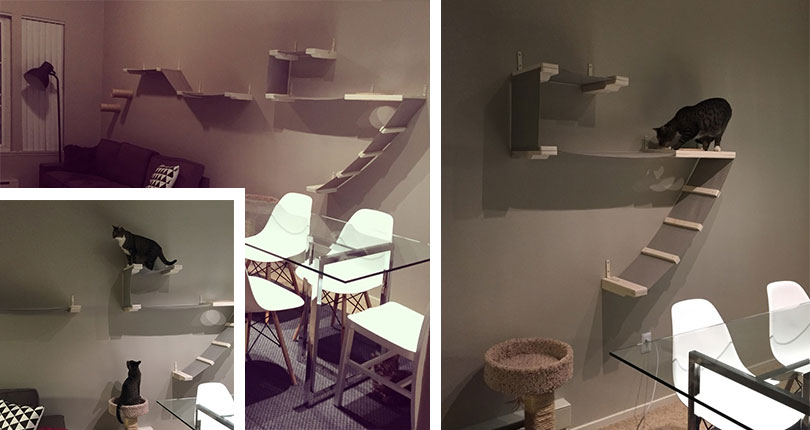 The pieces are sold in modules, like so:
And last but not least: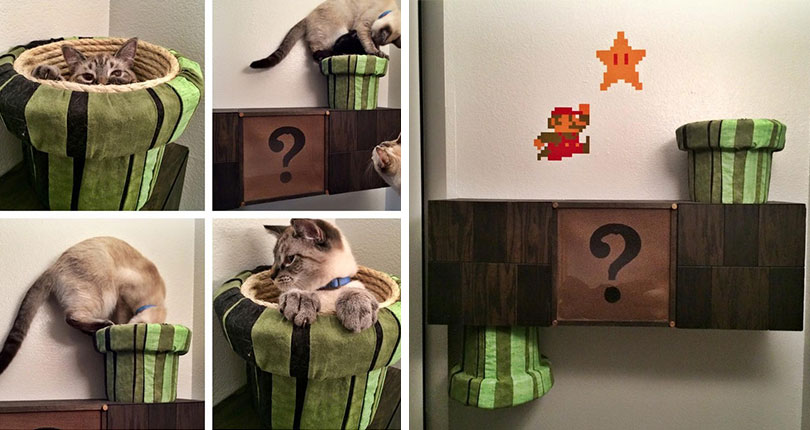 Killll meeeeeee.
Shelves
For something a little less intense, there are smaller, standalone pieces like these –
---
DIY
As most cat owners know, you don't necessarily need to drop a load of cash to please your cats. For such dignified little critters, cats are surprisingly low maintenance. Here are a few awesome DIY cat vertical space solutions, ranging from simple to uber crafty.
---
Getting your cats to love their tree
No cat tree in the world will be enticing to your cats if it's shoved in a back room somewhere.
If you're going to make your home cat friendly, commit! Think like a cat. Where are the best views in your home? Where does the sun shine the most gloriously? You'll likely have the best luck placing your cat tree against a wall and near a window, or in a corner (with a sweet vantage point of your home). Cats love corners, since they feel more secure with their backs against a wall, and 2 walls are better than one.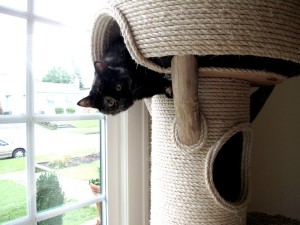 If you're still having trouble getting kitty to warm up to their new climbing area, don't despair. Sprinkle some catnip on it, tuck a few tasty treats on its shelves, and play with your cat with a wand toy near the space, enticing them to jump up onto the tree.
Give them a few days. Cats are notoriously wary of foreign objects, and more likely than not, you'll catch them lounging on it before the week's up.
Remember, it's not hard to keep your cats happy.
Even if you don't splurge on a state-of-the-art cat superhighway system, something as simple as a strategically placed bookshelf or armchair can work wonders in helping your cats feel safer, more comfortable, and more engaged with their home. Especially if your cats are strictly indoor cats (which I recommend), it's important to ensure their environments are sufficiently enriching and stimulating.
Got any DIY ideas to share? How do you solve the problem of cat vertical space in your home?

…Onwards ho!
How to Add A Shelf To Your Shiny New Cat Tree
Sorting Through the Fabulous(ly weird) World Of Cat Toys
My Top 10 Most Indispensable, Bad Ass, Must-Have Kitty Things