How To Get Your Cat To Stop Liking You So Much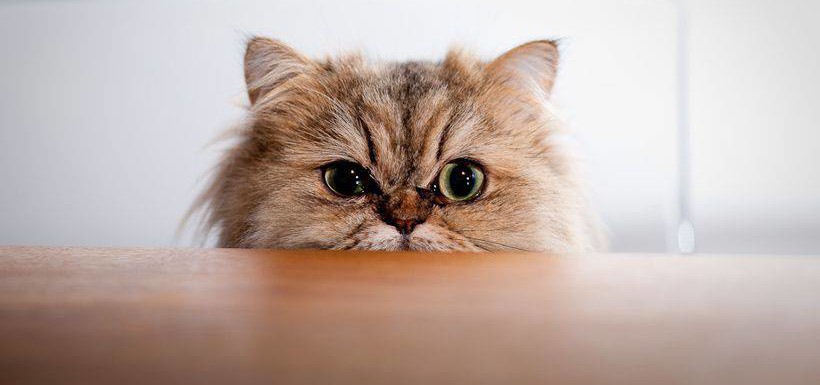 I know what you're all thinking. I can feel you judging me, even as I sit here typing this.
"Why," you ask, "would I want my cat to like me less? She barely likes me as it is."
If you're in that camp, feel free to migrate on over to the next post in this series: How To Get Your Cat To Like You More.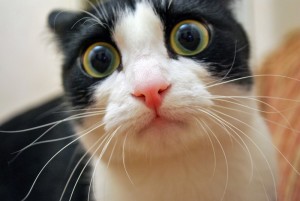 Not sure where you stand with kitty? Well, if your cat liked you a little too much, you'd definitely know it. You'd feel it. You'd be feeling it right now. That warm little fur ball, permanently glued to your lap (or your shoulder, or your face, or your shins as you're trying to walk across a room).
Such a thing exists, people. Cats who like you too much. Ok, misleading language—cats who need you too much. They're called needy cats, and they can be a problem.
Signs you have a needy cat
Verily, there are few things in this life sweeter than the affections of a doting cat. But when you find yourself more often annoyed than enraptured, you could have a needy cat on your hands. Here are a few telltale signs: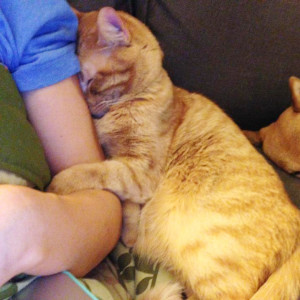 Kitty follows you everywhere. You have to be careful about making sharp turns because you might accidentally kick her in the face.
Kitty positions herself directly on top of, or in front of, whatever you happen to be using.
Kitty stares at you constantly. Usually from close proximity; sometimes from dark corners.
Kitty refuses to be left alone—attempting to spend a few solitary minutes in the bathroom leads to yowling and scratching at the door.
Kitty seizes any opportunity to rub against you or cling to your body.
Kitty may not eat unless you're home.
This is not to be confused, however, with—
Signs you have a demanding cat
Kitty yells at you when it's lunch time.
Kitty yells at you when it's dinner time.
Kitty yells at you to wake up in the morning.
Kitty meows incessantly until you pick her up.
For the most part, kitty is independent… until she needs something.
Kitty will climb right into your lap without being invited.
What's the difference?
Big difference. A needy cat is usually suffering from a lack of self-confidence, while a demanding cat has too much of it. A needy cat's behavior is generally a sign of underlying emotional trauma, while a demanding cat has effectively manipulated you into being her b$%#. Ehem.. I mean being at her beck and call.
This stops now!!!
How do you fix needy or demanding behavior? Since these two issues stem from completely different sources, we'll tackle them one at a time. (The issues, not your cats. Don't tackle your cats.)
A couple notes:
If the behavior developed out of the blue, there's a chance it's a medical issue. Much like kids, cats can become whiny and dependent when they're feeling sick, so a trip to the vet is in order to rule out any major health concerns.
If kitty was recently adopted into the home, it's normal for her to display either extremely skittish or extremely clingy behavior at first, while she settles in. Shelter cats aren't used to having loving, stable homes and will need time to regain their confidence. Give her some time.
Cats who were separated from their mothers too early (any time before 2 months is generally too early) will usually have attachment issues. It's entirely possible that she's imprinted on you as her true "mother."
If you're fairly confident the behavior isn't medical and wasn't brought on by emotional trauma, your cat could very well be bored. If she's your only cat, I highly recommend adopting a companion for her (while making sure to introduce them properly).
Nipping it in the bud
As much as we'd like to reassure our nervous cats, too much reassurance can be a bad thing. We'd only be reinforcing her dependent behavior, so much so that it could become her new "normal." Reinforce the behavior you want, and (gently) ignore the rest.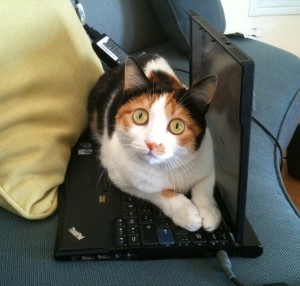 When she starts to rub against you excessively or positions herself on your laptop, gently pick her up and move her away. Repeat this as many times as necessary. When she stays away for more than a few moments (or walks away!), reward her. Clicker training is useful in this situation, since it delivers instant positive reinforcement without you having to go diving for the treat bag.
By the way, keeping up this regimen will get old, really, really fast, but stay firm—and never angry or aggressive. Repetition and consistency is your friend. Remember, she's suffering a crisis of instability and insecurity—conditioning her out of that state should be subsequently calm, steadfast, and consistent.
In the meantime, it's incredibly important to ensure her surroundings are enriching and comfortable, with plenty of toys, beds, and vertical space.

Dealing with a demanding cat is more straightforward and less delicate, and requires less action on your part. Pretty much zero action, in fact. The principles are exactly the same: Reinforce the behavior your want, and ignore the rest.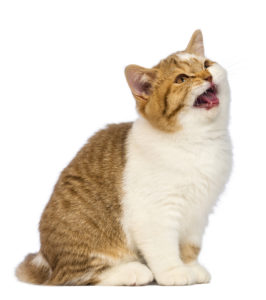 Kitty yowls at you for attention? Ignore her completely. Don't even look at the little gremlin. Don't shout, either—that still constitutes attention and she'll take what she can get. When she climbs into your lap demanding kitty cuddles, calmly move her away from you and continue to ignore her.
If this all sounds like a whole lot of unnecessary cold-shouldering, don't worry—you should also be rewarding the behavior you want. Whenever she's calm, quiet, and not in your face, give her snugs. Pet her and coo in that voice you reserve for talking to your fur children. If she jumps up and starts yowling again, immediately revert to full affection lockdown.
With time (and consistency!), you'll see her progress from demanding (MREOAWW), to demanding and frustrated (..MREAAAAWW!!), to tentatively demanding (MR..MREAW..?), to normal, non-annoying kitty (mreow).
Cats quickly learn what works and what doesn't, so in this way they're quite easy to "train."
The Diagnosis
Now that you know how to keep kitty's behavior in check, let's get at the root of the issue. A cat who clings to your side for dear life, constantly requiring comfort and reassurance, is definitely feeling insecure.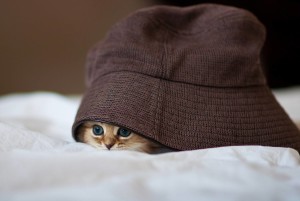 Think back to when the behavior started. Did something happen? The departure of a loved one? Was she, or someone else in the family, recently adopted in? If there's been a new family member, have they been properly introduced? Have you thrown out a piece of furniture that she loved, or conversely, added one with a heavy, foreign smell? Depending on your cat's personality and what constitutes a "major" change in her life, something must have triggered this new feeling of insecurity.
Understanding kitty's sudden existential crisis can help you tailor your response accordingly, whether it means building up her confidence or just giving her a little extra time.
Looking to go even more XTREME? Try my final post in this series, How To Get Your Cat To Stop Liking You Entirely. (Which is really just a how-to in reverse, and should be ignored completely by everyone.)
Also, ensure you're doing all you can to help your cats coexist peacefully with each other.
Go further down the rabbit hole and solve one of life's big mysteries: Why do cats love boxes?
Have a needy kitty? What are your tips for dealing?